Get a quote now: call 520-447-1344
Our prices are affordable with no hidden fee.
Customer friendly staff at your service.
No hassle, no guesswork, simple easy contracts.
Become one of our satisfied customers.
We always deliver and pick up on time.
Do you need help to manage your residential or commercial waste?
Do you have a large quantity of waste and debris that you want to get rid of as soon as possible?
Are you hosting a community cleanup?
Whatever the reason might be, you need a reliable and affordable dumpster rental in Tucson, AZ.
And you just found us.
Get a quote by calling 520-447-1344!
With a decade of experience and nearly 20 employees, our company has established a strong reputation for handling commercial and residential waste disposal efficiently. From dumpster rentals to waste removal management, we continue to deliver responsive and quality service in the area. On top of this, rest assured that our rentals and other services offered are priced at a reasonable cost.
People continue to seek our services because our dumpster rentals and cleanup services provide a clutter-free residential and work space for everybody.
From homeowners tackling massive waste to contractors finishing construction projects, the use of dumpsters helps to keep things in order. They contain trash and debris that could potentially cause an even bigger waste material problem.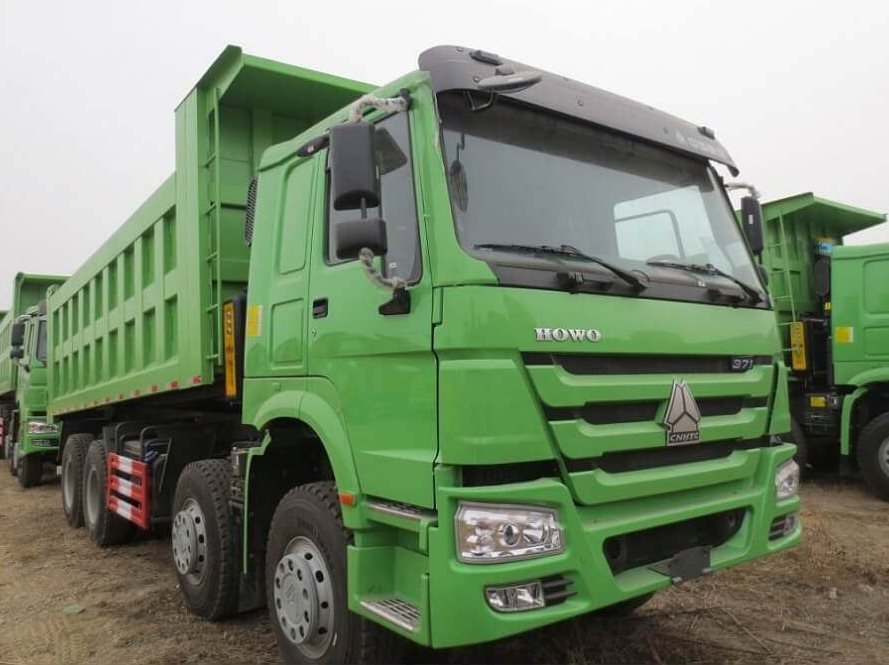 You can rent a dumpster for the following reasons:
Home remodelling – demolition and construction of one room up to an entire home
Water or fire damage – collection of waste caused by water or fire accidents
Removal of concrete – removal of concrete on road constructions
Roofing projects – disposing of siding waste and unneeded roofing materials
Garage and household cleanout – garage, basement, attic, home or Spring cleanout
Scrap and wood removal – for larger demolitions of buildings and houses
In addition to dumpster rentals and cleanup services, we also offer recycling and waste management options. We have been offering our services to many neighborhoods in Tucson, and we are proud to say that none of them have had any serious complaints. From delivering on time to picking up the trash timely as well, we ensure that we satisfy our customers' needs and expectations.
Here are the types of dumpster rentals we offer:
Commercial
Residential
Retail
Industrial
Feel free to contact us to get a quote by calling 520-447-1344. Do not hesitate to voice out your dumpster needs as well. Prices are not fixed and we adjust them accordingly based on the specific waste management needs of our customers.
The question now is, why choose us?
We are a locally owned Waste Management and Dumpster Rental Services here in Tucson. We have built our name based on our hard work and excellent customer service. Since we also assist our clients in securing their dumpster permits, we are dedicated to making sure that your job is our top priority from start to finish.
Our Dumpster Rental Explained in one minute

We can handle concrete, dirt, wood, metal, brick, paper, and rubber wastes. On top of this, we are strongly committed to saving our mother earth. We believe that both you, the customer, and us, the service provider can make a difference by focusing on proper trash disposal and responsible environmental practices. Plus, we recycle your junk whenever possible.
Do you have a short-term project? Or perhaps you need a certain group of people to help you cleanup your site after a day of construction?
Whether you want a small dumpster or your need a group of people to take away a massive quantity of trash, we have the equipment and the experience to meet your desideratum. As nothing is set in stone for price points, our staff can determine the reasonable payment for your choice of service.
Once an agreement is set, our team in uniform will contact you 15 to 30 minutes before we deliver your dumpster. Please allow us a leeway of 2 hours just in case we come across a traffic jam. When we arrive, you just need to get pointed to the direction where you want your unit to be placed.
Say the word and we can haul everything away from your place within Mondays to Saturdays, 8:00 AM to 6:00 PM.
Get a quote now: call 520-447-1344
Our prices are affordable with no hidden fee.
Customer friendly staff at your service.
No hassle, no guesswork, simple easy contracts.
Become one of our satisfied customers.
We always deliver and pick up on time.
Delivery of a dumpster the same day
We are a Tucson-based company tat rents dumpsters and offers a hook lift system for dumpsters in the Tucson area. We have full insurance in Arizona and a CDL licence. Do you need a roll-off dumpster right now? We are your best choice if you want great customer service at a low price.
We can help you rent a dumpster for your home, business, or if you're a contractor who needs one for a job site. We have roll-off dumpsters in a range of sizes to fit any job.
It depends on what you want to use it for and how much trash you have. When renting a dumpster, you need to know the different sizes and weight limits we offer to make sure you get a dumpster that is big enough for all the trash you need to get rid of.
If you ask for a dumpster that is too small for your trash, you might have to overfill it and go over the weight limit or rent another dumpster to finish the job when you could have just gone up a size. Give us a call at 502-447-1344 if you're not sure what size dumpster you need for your project. We'll be happy to help you find the right dumpster rental for your work project.
Dumpster Sizes
How to Figure Roll-Off Container or Dumpster Sizes for Your Project Cleanup
When you decide to begin a do-it-yourself home improvement or remodelling project, disposing of garbage and trash is typically not the first thing you think. However, you will quickly discover that it is much simpler to purchase the new materials you require than to dispose of the old ones you remove.
You will discover that renting a roll-off container is a cost-effective method for disposing of the building debris you will need to remove, as the system designed for the removal of residential rubbish will not be enough. Roll off containers, or 'rolloffs' as they are generally known in the industry, are similar to a huge, one-time use dumpster that can be filled with any form of waste. When you are completed, the company providing the roll-off container will arrive to collect the container and the trash.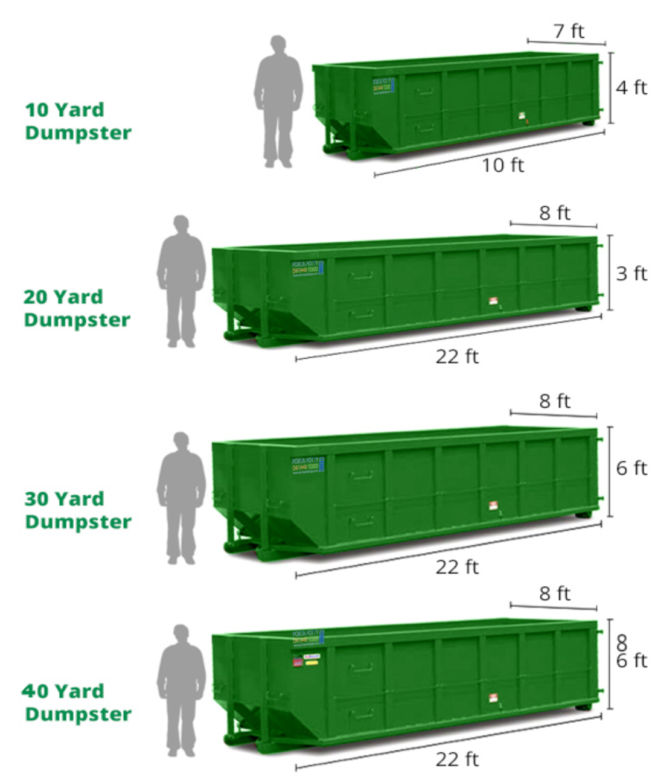 Will a roll off container firm cooperate with me, and how can I acquire the right size?
This is the first question that many individuals have when they consider the necessity for a rolloff.
In the industry, standard sizes are employed, and these sizes are expressed in cubic yards. Rolloffs in the 20 and 30 cubic yard sizes are perhaps the most typically employed in a do-it-yourself job, but smaller 10 cubic yard and huge 40 cubic yard units are also available.
When you deal with a roll off container firm person, they will refer to a '20 yarder' or a '30 yarder.' This is the industry jargon, and it is how sizes are expressed.
Prior to your contact, you should have an estimate of the size you require. This will allow you to discuss ordering a rolloff and learn more about what you require fast and easily. You'll want to receive pricing and any information or restrictions about forbidden materials without having to ask a lot of fundamental questions.
How much can the most common sizes of dumpsters really hold?
The area that makes up a cubic yard is 3 feet long, 3 feet wide, and 3 feet deep. To get an idea of how big your space needs to be, think about a small one-car garage. Our made-up small one-car garage is 14 feet wide, 22 feet deep, and 8 feet high (usable space). This is about the size of a storage unit. There would be 100 cubic yards of space in a small building this size.
So, when figuring out what size dumpster you need, think about how big a roll-off container you might need based on how much debris and trash your project will make.
10 yards are pretty small and would probably only be enough for a very small project, like replacing the flooring in a bathroom or very small room. 20-yarders are getting close to the size you might want for some smaller projects. They have about the same amount of space as going back about 4 feet into our made-up garage. But if you don't have a lot of drywall or wood to throw away, this is a good size to start with.
30 yarders are starting to be big enough to handle bigger projects, like tearing out cabinets or changing a wall in a room bigger than a bathroom. And a 40-yarder will give you more space if you really need it.
This would be like having enough space to fill our made-up small garage with trash almost all the way to the top. Also, try not to wait until the last minute to order a rolloff that will turn out to be too small.
If you're not sure, get the next size up. It seems like there is always more trash than you think. If you overestimate the size and still have room left over when your project is done, you can be happy that you didn't run out of room and don't have to pay extra for extra dumps. Then look around and get rid of any other trash or debris that has been there for a long time and would be hard to get rid of any other way.
Making it easy to get rid of the trash is a big part of making sure a project goes smoothly. At the end, you'll get to call the company that rented you the dumpster and have them come and take it away. It's a great decision. Give us a call at 502-447-1344 if you need help choosing the right dumpster size for your project or figuring out where to get roll off containers in your area.
Simple Dumpster Rental Methods
To that end, we have streamlined the dumpster rental process in Tucson. We anticipate that you may have some questions, and we think the best approach for you to get those questions answered is to speak with us personally. You can phone us if you agree, and we'll offer you some straightforward, but kind, explanations.
Dependable Waste Management Services
Delivery and pick-up on time
If you want to rent a dumpster in Tucson, don't settle for companies that don't respond quickly or who show up late. Our roll-off containers are always delivered on time, when and where you need them. Our goal is to provide the best customer service in the industry at prices that everyone can afford.
Competitive and clear pricing
Costs for dumpster rentals are not always as clear as they should be. Some dumpster rental companies charge extra fees that you don't find out about until it's too late. We think that the prices for dumpster rentals should be clear and easy to understand. Our prices are always competitive and include delivery, pick-up, landfill fees, and a weight limit.
Call us at 502-447-1344 if you have any questions, want a price quote, or want to schedule a dumpster delivery.
We made this guide to help people in the Tucson area who might need to rent a dumpster for a home improvement or renovation project. Even though renting a dumpster doesn't have to be hard, you can make the process go faster and save money and time if you know what questions to ask and what information you will need to give.
In Tucson, there are only three simple steps you need to take to rent a dumpster. The first step is to gather all the information a dumpster rental company needs to give you a price quote.
The second step is to think of specific questions you want to ask each rental company. This will help make sure that you don't have to pay any extra fees or fines on top of the price quote you get.
The third step is to choose a good spot for the dumpster and get the site ready. This will help avoid damage to property and make the project run more smoothly.
Also, we service the following cities: Flowing Wells, Catalina Foothills, Drexel Heights, Casas Adobes, Oro Valley, Marana, Green Valley, Eloy, Florence, Nogales, Coolidge, Sierra Vista, Nogales, Mexico, Casa Grande, Safford
We can deliver our roll-off containers at these zip codes: 85629, 85641, 85701, 85704, 85705, 85706, 85707, 85708, 85710, 85711, 85712, 85713, 85714, 85715.
Get a quote now: call 520-447-1344
Our prices are affordable with no hidden fee.
Customer friendly staff at your service.
No hassle, no guesswork, simple easy contracts.
Become one of our satisfied customers.
We always deliver and pick up on time.